The 10 most beautiful cenotes in Tulum
Cenotes are beautiful pools of water that are a must-see on a trip to Tulum.
But with more than 10,000 cenotes in the Yucatan Peninsula, it is impossible to see everything during a stay in Tulum !
What is a cenote?
Underneath the Yucatan Peninsula is an underground river with several natural cenotes. The water is fresh (not salty) and the basins are linked together by tunnels.
There are three kinds of cenotes :
Open cenotes : A bit like swimming pools, they are completely exposed to daylight. They have lush vegetation and colorful fish that you can observe while snorkeling.
Closed Cenotes : like a cave, they are completely immersed in darkness. They are accessible through entrances at ground level and have a more restricted fauna and flora, due to the lack of natural light.
Semi-open cenotes : This is a mixture of open and closed cenotes. One part of the cave collapsed and created an opening, while the other part still covers the basin.
The cenotes occupy an important place in the Mayan culture. Indeed, in Mayan language, "cenote" comes from Dzonot, which means "sacred good". The Maya associated them with fertility and life. They represented the gateway to the underworld, a sacred place where souls meet.
Cenote Azul
The cenote azul is a beautiful place with paths that lead to different water sources.
There are 3 natural pools, the first two of which have shallow water.
You can swim quietly and snorkel to observe the rocks, plants and fish.
There is also a place where you can jump into the water at a height of 5m. A bit of adrenaline, in complete safety.
Cenote Azul is very popular with families because of its shallow areas and its proximity to Playa del Carmen, in addition to the cenotes Jardin del Eden and Cristalino, Xpu-Ha beach and Akumal.
ℹ️ Practical information :
🕘: From 8:00 am to 5:30 pm every day
💲: 120 pesos (adults) – 80 pesos (children)
Gran Cenote
This is one of the best cenotes in Tulum, but also one of the most touristy in the Riviera Maya !
It is a good option if you are visiting Tulum with children as it is easily accessible for all swimmers (even beginners), with several services, and a large rest area perfect for a picnic.
The Gran Cenote can be combined with a visit to Cobá or Chichen Itzá located on the same road.
However, it is better to go as soon as it opens because in the afternoon the tourist buses arrive after the visit to Chichen Itza.
20 minutes from Tulum, the Gran Cenote is the ideal place for snorkeling or diving. You can observe the natural geological beauty of the place and see dozens of stalactites and stalagmites.
ℹ️ Practical information :
🕘: from 8:00 am to 4:45 pm every day
💲: 500 pesos, locker 30 pesos, snorkeling equipment 80 pesos
Cenote Zacil-Ha
"Clear water" in Mayan, this magnificent natural pool has been transformed into a small eco-tourist complex.
You can swim, snorkel and even dive in "Las Lagrimas", a cave from 8 to 35 meters deep that communicates with the cenotes Carwash and Calavera!
It is an ideal cenote for families because it has all the amenities: swimming pool, rest areas, changing rooms, restaurant, cabanas, toilets, parking, equipment rental.
There is even a small zipline on the cenote.
However, it is not very big and can fill up quite quickly. It is better to come as soon as it opens at 10 am because the groups arrive around 11 am.
ℹ️ Practical information :
🕘 : from 9:00 am to 5:30 pm every day
💲 : 200 pesos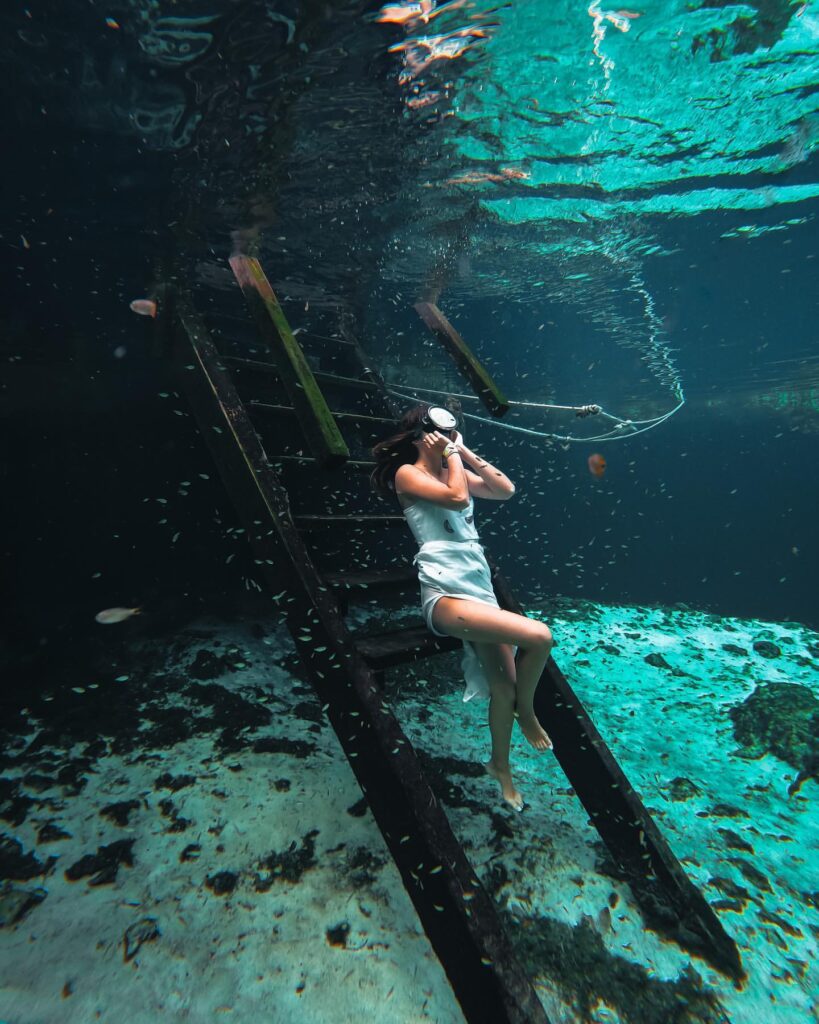 Cenote Calavera
Cenote Calavera, in English "skull", owes its name to the orbital shape of its two entrances. As surprising as it may seem, this impressive shape is totally natural. A simple wooden ladder will allow you to enter and exit the water. Near the main entrance, there is a hole you can jump into. Follow the signs "JUMP HERE". Don't worry, you can easily climb back up by ladders.
The Calavera cenote in Tulum is not very touristy as it is not part of the tours and is not very convenient for families as there is no service except for a very simple toilet.
Perfect for friends and couples !
ℹ️ Practical information :
🕘 : from 9:00 am to 5:00 pm every day
💲 : 250 pesos
Cenote Dos Ojos
The Dos Ojos Cenote, in English "Two Eyes", is very well known among diving enthusiasts for its impressive caves. It actually consists of two cenotes: the two eyes. These are connected by an underground tunnel and are part of the largest underground river in the world, the Sac Actun.
If you do not practice scuba diving, the cenote is still impressive to see. You can swim and observe the catfish that live there. On the site of Parque Dos Ojos there are other cenotes that you can visit (Cenote Jaguar and Cenote Nicte-Ha). However, you will have to pay separately.
Along with Gran Cenote, Dos Ojos is the most famous of the Tulum cenotes.
In order to enjoy Dos Ojos Cenote, it is best to arrive at the opening or just before closing time without the tourist groups.
There are all the services on site, including two restaurants, making it an ideal cenote for families with children.
ℹ️ Practical information :
🕘 : from 8:00 am to 5:00 pm every day
💲 : 350 pesos
Casa Cenote
Casa Cenote is a cenote where you can meet Panchito, the crocodile known for swimming with tourists. This open cenote is surrounded by mangroves. Its ecosystem is very particular and you can see many small fish.
Snorkeling is really worth it! According to us, this is one of the best cenotes for snorkeling in Tulum because the space is big enough and you can do the whole trip in half an hour.
Almost in front of the cenote, there is an access to the beach and a restaurant with a view on the sea: it can be a good option after the swim.
ℹ️ Practical information :
🕘 : from 8:00 am to 6:00 pm every day
💲 : 150 pesos (life jacket included, mandatory). Lockers 50 pesos, kayak 150 pesos (single) or 200 pesos (double). Possible to rent snorkeling equipment or bring your own.
Cenote Sac Actun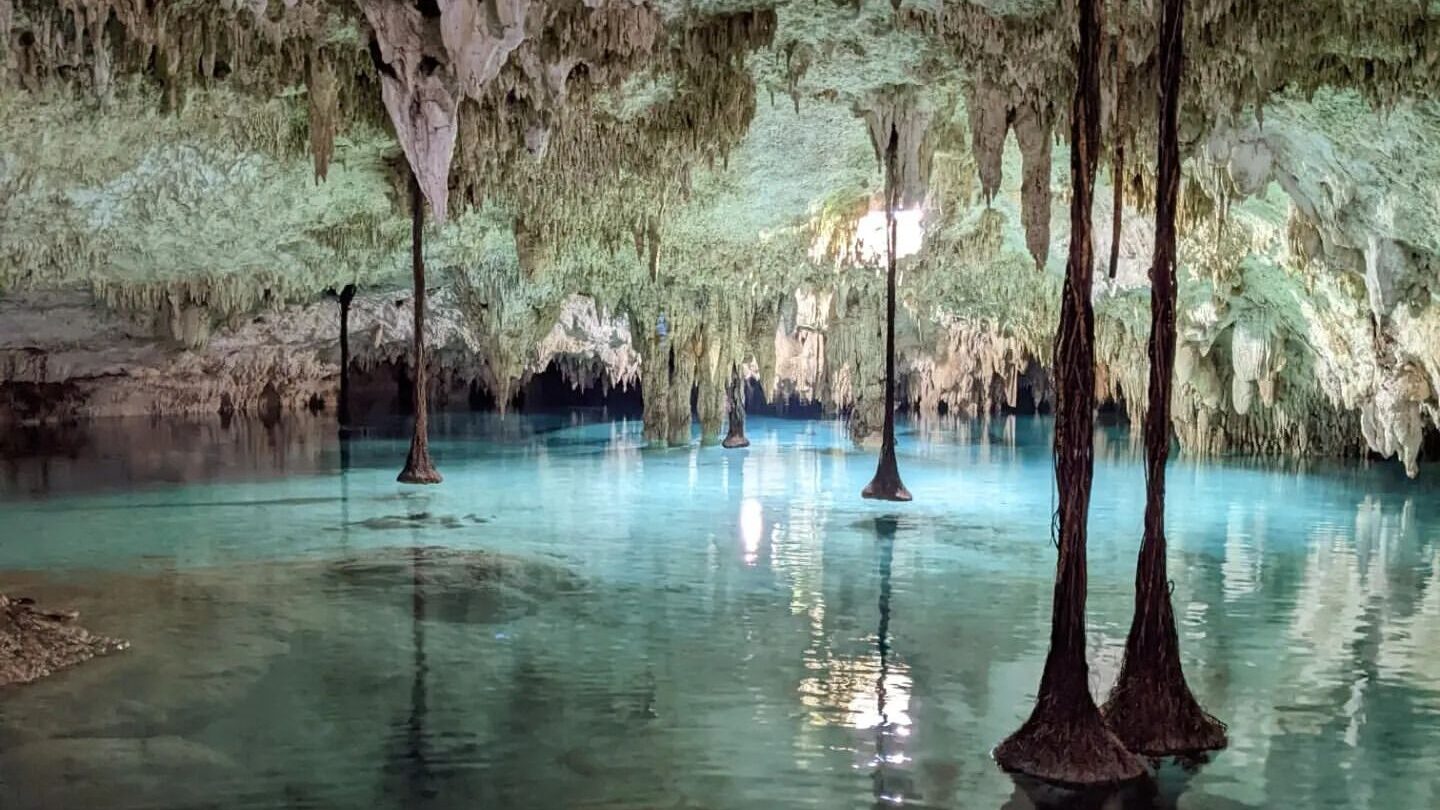 With its caves, clear water and numerous rock formations, Sac Actun is one of the most beautiful cenotes in Mexico !
It is also nicknamed "Pet Cemetery Cenote" because of the many animal bones that have been found there, probably as a result of Mayan rituals.
In fact, Sac Actún gathers several cenotes that are part of one of the largest underwater cave systems in the world.
It is mandatory to visit Sac Actún with a guide, who will take you to discover the different caves in about 45 minutes.
ℹ️ Practical informations :
🕘 : from 8:00 am to 6:00 pm every day
💲 : 700 Pesos (includes snorkeling gear, life jacket and a wetsuit).
Cenotes Cristal y Escondido
These are two outdoor cenotes, located across from each other on Highway 307 and accessible with the same entrance ticket !
Both cenotes are surrounded by rich vegetation with clear water, perfect for swimming and snorkeling.
Cenote Cristal, also known as Cenote Naharon, is a little more popular because it has several places to sunbathe, hammocks and tables.
There is also a 2m platform to jump into the water.
ℹ️ Practical information :
🕘 : from 8:00 am to 5:00 pm every day
💲 : 300 pesos for both cenotes or 150 pesos for one cenote
Cenote Taak Bi Ha
In a completely different genre, Taak Bi Ha is another cenote not very touristy in Tulum, managed by a local community of 7 families.
It is a nice cenote in a submerged cave with many stalagmites, stalactites, roots, skylights and clear water.
We really recommend the 30 min guided tour as it allows you to explore more of it by snorkeling, sometimes in deeper water, sometimes in rather narrow corners. Very fun !
ℹ️ Practical information :
📍: 20 km from Tulum on the 307, you have to go to the entrance of the Parque Dos Ojos (but it is not part of it), then continue for about 3 km inside.
🕘 : Open every day from 8:00 am to 5:00 pm
💲 : 350 pesos (life jacket included) or 400 pesos with the guided tour
Cenote Santa Cruz
Cenote Santa Cruz is a great cenote to see in Akumal and even one of our favorites in the area !
Not only for its preserved natural beauty between its rock formations and crystal clear water, but also for its intimate and exclusive feel.
It's a great place for families. There are palapas and sun chairs to hang out at. The cenote also has a small restaurant on-site.
The guided tour is obligatory (2h30) and by reservation only, you really feel close to nature because the number of visitors is very limited.
ℹ️ Practical information :
🕘 : from 8:00 am to 5:00 pm every day
💲 : 49 $us (group tour) – 65 $us (private tour)
The 5 tips for visiting a cenote in Tulum
1 – In general, you have to pay in cash at the cenotes (pesos or American dollars). We therefore invite you to calculate your budget for the cenotes before leaving and perhaps plan to go to the ATM before! Please note that equipment rental (e.g. snorkeling, life jackets) is not included in the entrance fee.
2 – Equipment : Aquashoes (or aquatic shoes) will be very practical because there are often rocks. This will prevent you from slipping or hurting your feet.
3 – Even if the closing time is indicated as 5:30 or 6:00 pm, most cenotes do not allow access after 4:00 pm.
4 – The most expensive cenote is not always the best: there are cheap and very nice cenotes, managed by communities that cannot afford to promote them.
5 – Sunscreen, mosquito repellent as well as other lotions and sprays that we apply to our bodies are toxic to the ecosystems and aren't decomposable. Even biodegradable sunscreen !
Map of Cenotes, Lagoons, Creeks and Beaches